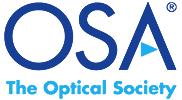 members all over the world
275
Student Chapter in more than 50 countries
30
annual meetings of optics and photonics topics
OSA ITMO Student Chapter was established in the beginning of 2000. One of the initiators is Sergei S. Gvozdev.
There was a very active period of Chapter standing in 2000-2003, but later the activity calmed down…
In the early beginning of 2011 at the fourth meeting of the New Stream project OSA chapter was included into the OSC. Also new President of the OSA Chapter (OSA branch of OSC) was elected – Mikhail Khodzitsky.
Register